Motorcycle Accident Safety Tips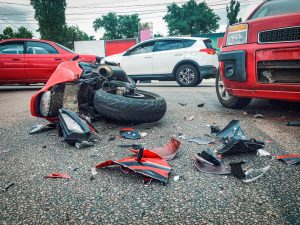 The legal team at the Manzoor Law Firm, in Roseville, California is at your service should you have been in a motorcycle accident.

If you were involved in a motorcycle accident in Roseville CA or the surrounding area, you need a Roseville accident attorney to ensure you receive all the benefits you deserve.

Motorcycle accident attorneys have the resources needed to prove your innocence. They also have professional relationships with the best accident reconstruction experts.

What are the laws in regards to motorcycle riding?

During the early 1970s, almost all states began enforcing a universal motorcycle helmet law. That stayed consistent until 1976, when states successfully lobbied Congress to stop the Department of Transportation from considering financial penalties on states without helmet laws in place.

Motorcycle helmet laws in some states require a D.O.T. certified helmet, some just require a helmet for certain aged riders or under certain conditions, and there is a small number that don't require a helmet period.

The main reason headlights are used during daylight hours is safety. They may not make a huge difference in bright sunlight, but in the shaded areas of a road or when sunlight is low, they can make a huge difference in your visibility to other motorists.

For the sake of better safety, most states have adopted a headlight law.

Only California allows lane splitting of any kind. Lane splitting is when a motorcycle rides between vehicles on the road.

What should you do if you are involved in a motorcycle accident?

1. FILE A POLICE REPORT

The first thing you need to do after an accident is to call 911 and file a police report. An officer will document all parties' insurance policies and statements.

2. TAKE SAFETY PRECAUTIONS

If the accident has left you in a dangerous position, remove yourself from it immediately to avoid further damage. Whether you feel the pain yet, visit a doctor right away.

3. REPORT TO THE INSURANCE COMPANY

As with any accident, you'll need to report to the insurance company as soon as possible.

4. GATHER BILLS AND DOCUMENTS

One of the most important things you need to do after a motorcycle accident is to gather the evidence. Request a copy of the police report, photos of the damages and the scene, medical bills, paystubs, time-off information, and anything else related to the accident.

5. SPEAK WITH A LAWYER

Insurance companies are known for offering the lowest amount, but an accident attorney will negotiate for more money.

What are the Most Common Types of Injuries in a Motorcycle Accident?

Muscle Damage

Most injuries from motorcycling are simple sprains rather than tears of muscle tissue, but the harder you ride, you can expect the bigger the injury opportunity may accompany right along.

Biker's Arm

Biker's Arm is normally associated with an accident, as the human inclination is to put your arms down to break a fall. That act of bracing for impact is what generally injures the arm(s).

Foot and leg injuries

These can also include bruises, cuts, sprains, muscle injuries, or breaks. The legs and feet are closest to the ground while riding, and they are usually the first to reach the ground in an accidental fall on a motorcycle.

How Can an Attorney Help After a Motorcycle Accident?

Provide Advice
Gather Evidence
Negotiate
Help You Navigate the Legal System
Help You Set Reasonable Expectations
Represent You

If you were involved in a Roseville motorcycle accident, you need a Roseville motorcycle accident attorney to represent you.